Skip to Content
Professional Air Conditioning Repair in Decatur, GA
High-Quality Air-Conditioning Unit Services Near You
Ace & A Heating and Air Conditioning is proud to have been serving the Decatur, GA, area since 1975. We provide residential and commercial air conditioning repair, installation, replacement, and more. Our experienced HVAC experts can quickly assess any issue you're having and provide you with reliable and effective solutions.
Is It Time to Replace Your Air Conditioner?
There are many signs that it's time to replace your air conditioner with a newer, more energy-efficient system. If your air conditioner is 10 to 15 years old, it's likely time to replace it. The following signs could mean that it's time to invest in an air conditioning replacement:
Frequent Repairs – If you frequently have to spend money on air conditioning repairs, an air conditioning replacement could be less expensive and save you money. Our team recommends that if more than two repairs are needed during a season, it's time for a new air conditioner.
Reduced Air Quality – If you or your family members/office mates seem to suffer more from allergy or asthma symptoms, it could be a sign that your air conditioning system needs replacing. These are classic signs of poor air quality, which old or malfunctioning air conditioners can cause.
Rising Bills – There shouldn't be a large cooling bill increase from year to year. If you are experiencing a significant increase in energy bills, you likely need a new air conditioning system, or your filters need to be changed. Replacing your air conditioning unit with a more energy-efficient model is a great way to reduce prices.
Short Cycling – If your air conditioner starts and stops frequently after running only for a short time and frequently repeats that cycle, this is short cycling. It is very ineffective, hard on the system, increases energy bills, and indicates that you might need an air conditioner replacement.
Noises – While air conditioners make some noise when they operate, there should never be any grating, banging, scraping, or squealing sounds. These are often signs of broken parts or malfunctioning components.
Home Not Cooling – If your house never seems to cool down enough, the first step is to change your air conditioning filters. If that doesn't work, it most likely means you need air conditioning replacement services
AC Systems Are More Likely to Fail on Decatur's Hottest Days
During the summer months here in Decatur, it gets hot and humid. Without proper air conditioning, your home can quickly become as uncomfortable, humid, and hot as outside. If your air conditioning system isn't working and you need quick services, our team at Ace & A is quick and effective. We also have 24-hour emergency services for emergency HVAC needs.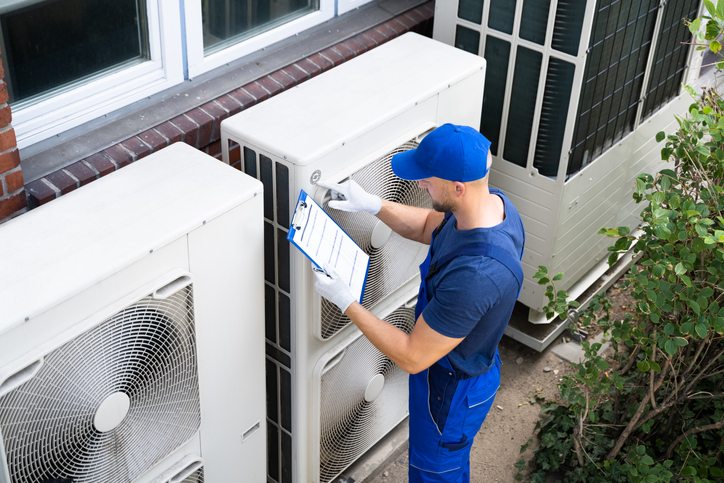 We Offer a Variety of Air Conditioning Services
At Ace & A, we proudly offer comprehensive air conditioning services. No matter the service you need or the system you have, you can rely on Ace & A for quick and experienced service. We provide services for the following air conditioning systems:
Central Air Conditioning – Central AC cools your house by pumping cool air through the ducts in your walls. The evaporator system is usually in the basement, so central air conditioning may not be your best choice if you have limited space.
Mini-Split or Ductless Air Conditioning – A mini-split system is ideal if your home does not have ductwork and you want to avoid installing it. Refrigerant is pumped directly into thin copper tubing using wall-mounted blowers in each room. These AC systems allow you to customize the temperature in each room in your home.
Heat Pumps – These systems absorb air from outside your home and remove heat to create cool air inside your home. Most heat pumps use ductwork, but some systems do not.
Get Expert AC Repair, Maintenance, & Replacement Services
When you rely on Ace & A Heating and Air Conditioning, you can have peace of mind knowing that you are in great hands. We provide complete HVAC services to help you no matter your needs. Our comprehensive services include the following:
Contact Us for an Estimate of Your AC Service Needs
Contact our Ace & A Heating and Air Conditioning team for quality air conditioning services in the greater Atlanta area. Our expert team is ready to help you determine what repairs or maintenance your air conditioning unit might require. No matter what you need, we are the team for you.
Providing Quality HVAC Services Since 1975